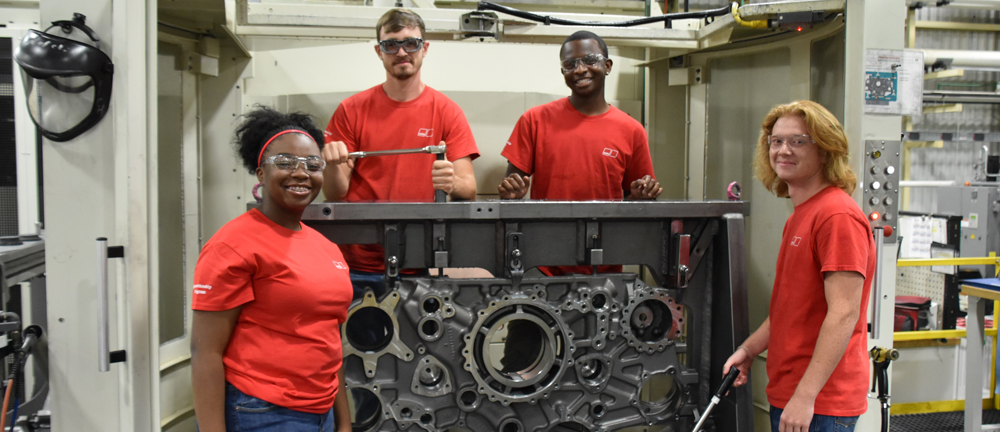 Opening Paths Through Education: MTU Aiken Plant Apprenticeship Program
In 2010, MTU America moved its manufacturing operations from Detroit to Aiken County, S.C. In its new home, the MTU Aiken plant—which produces large, complex off-highway diesel engines for applications in various industries—found a workforce to get the plant up and running, but it soon became apparent that future expansion plans would depend on a continuous pool of qualified employees, which did not seem to be readily available in the area.
By 2012, MTU leadership had a plan. They decided to address the skills gap, positively promote careers in manufacturing, and invest in Aiken County's education system by partnering with local high schools and the Career Center to bring a new vocational training approach to the area—an approach that has been successfully used by MTU in Germany for several decades.
The MTU Aiken Plant Apprenticeship Program—which combines classroom instruction, hands-on training at a local technical college, and on-the-job training at the plant—is designed to provide high school students with the opportunity to obtain industrial manufacturing work skills immediately sought by employers and to earn a wage, while they learn. Produced in partnership with the Aiken County School District, Aiken County Career and Technology Center, Apprenticeship Carolina and Aiken Technical College, the program operates with no additional cost to the community or students.
The approach to inspire interest in the program and in modern day manufacturing careers starts with local 9th grade freshman students who are invited to tour the MTU Aiken plant and get a preview of the program. The official student selection process begins the following year when 10th grade students are nominated as potential program candidates by their teachers. Once the nominated students complete an essay on why they would like to join the program, plus conduct interviews with MTU staff, final selections are made on which students will be selected to enroll in the program.
For their 11th grade year, the enrolled students attend high school classes, career center training sessions and work limited paid hours at MTU during the school year—plus they can work full-time during the summer. In 12th grade, the students continue to attend high school and career training sessions, while rotating paid working hours through various departments at the Aiken plant to increase their knowledge of operations.
During the program, students learn about a variety of skills related to assembly and metalworking, including measurement and tooling techniques, computer numerical control (CNC) machine operation and quality controls.
Upon completion of the program and a final exam, graduates are recognized as Certified Industrial Mechanics (Basic), a state-protected certification, and have multiple career path options.  Students who prefer to work instead of pursuing additional education can start their careers at MTU America and grow with the company. Apprentices at the Basic level of certification can work for MTU America and attend a technical college in order to move on to the Advanced training level. Or, students can opt to attend technical college to pursue a degree, while working at the MTU Aiken Plant as a sponsored Technical Scholar.
While employment at MTU America is not guaranteed or required, the graduates of the program are able to obtain open positions at MTU or at many other potential employers.
The program is structured to focus on a small number of students at a time to ensure a quality experience. Currently, six students per year are selected to participate. As of December 2018, 21 Aiken-area high school students had graduated from the MTU apprenticeship program.
The approach has proven successful, and the program has earned prestigious awards for its contributions to the educational system and business climate of South Carolina.  In 2013, the Association for Career and Technical Education (ACTE) presented MTU America with its Award of Merit for outstanding technical training. During that same year, the state of South Carolina awarded MTU America as Private Sector Champion of the Year. In 2014, the MTU Aiken plant was named South Carolina Manufacturer of the Year and in 2016, MTU America won the South Carolina Chamber of Commerce's Workforce Innovator Award.
The program has also been featured in such mainstream media as Dan Rather Reports, The Wall Street Journal and The New York Times. MTU representatives were even invited to meet with the U.S. Secretary of Education in Washington, D.C. to discuss the program as one of the first of its kind focused on high school students.
Currently, MTU has hired four past apprentices, and three others work there part-time while they attend college. Several others have continued to pursue degrees in engineering or taken jobs with other local manufacturing companies, such as BAE Systems.
According to Paul Wiley, Sr. Manufacturing Supervisor and Apprenticeship Coordinator, "Each student has a unique story; it is a pleasure working with them."